Delhi the Capital city of India is also one of the major destinations for tourists from all around the World. We provide
Car Rental for Delhi Agra
Jaipur which is also famous by the name of golden triangle tour in India.
If you are staying in Delhi, you can use our tour and travel services for
Delhi to Agra Taxi
or Delhi sightseeing like Red Fort, Jama Masjid,
Humayun tomb
&
Akshardham temple
etc. Our cab driver will pick you from your hotel in our luxury car and take you for all the sightseeing of Delhi city & drop you back to your hotel.
If you have a plan to visit Jaipur one day from Delhi you can hire our luxury cars, mini coach, and Tempo traveler as per your requirement. We have our own fleets at all destinations. Our drivers are well dressed and good English speaking and have very good experience of driving in all conditions.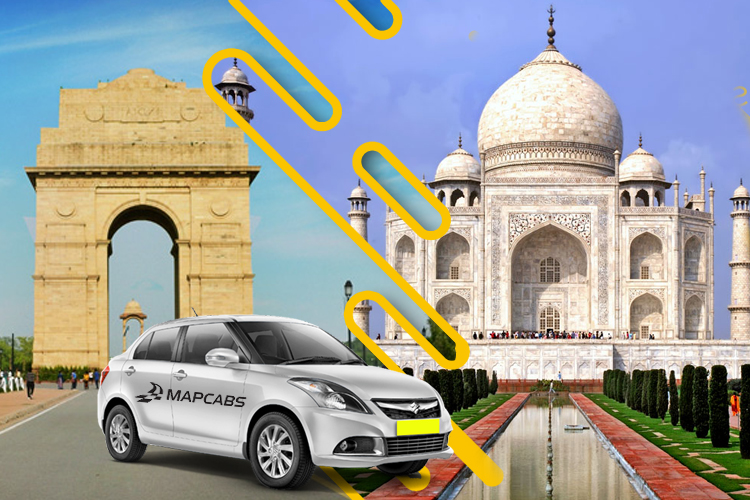 You can visit lot of tourist places in Jaipur like Amber fort, City Palace, Water Palace, and Alberto Museum etc. You can also book car for Jaipur shopping tour or Pushkar tour from Jaipur.
If you desire to visit the Taj Mahal – one of the most magnificent monuments of the World you can book a car for Taj Mahal overnight tour. If you would like to see Agra in your day trip from Delhi you can hire our car rental services with our private driver and car rental in Agra. You can visit Taj mahal, Agra fort, Baby Taj Mahal and after the visit you can explore yourself in the local markets of Agra. After our driver will drop you back to your hotel in Delhi.
Car Rental for Delhi Agra Jaipur
Delhi to Agra is one of the most demanded tours by car. As you land over IGI Airport in Delhi or staying in Delhi hotel you always cherish a desire to visit the iconic Taj Mahal and other Agra highlights. When you look for car rental Delhi to Agra, you are pestered with several Questions regarding Car Hire Delhi to Agra such as-
• What is the fare of taxi cab from Delhi to Agra?
• Is there any one way car rental service to Agra?
• How far is the Taj Mahal, Agra from Delhi?
• Where to book the car for Agra tour?
• How many passengers can accommodate in the Car?
• Is there any Bus service to Agra?
Just to ease out your problem of booking a cab from Delhi to Agra, I try to provide you the information on the various facts such as car pricing, distance, vehicle type, etc. underneath:
Car Rental Delhi to Agra Price
| | | | | | |
| --- | --- | --- | --- | --- | --- |
| Vehicle Type | Passengers | Baggage Capacity | Rate Per KM  | Fair One Way  | Fair Round Trip |
| Dzire or Toyota Etios(Sedan car) | up to 4 passengers | 2 big 1 small | 10 – 12 | INR 2800 | INR 6500 |
| Innova Crysta(MUV) or Ertiga(Sedan car) | 6 passengers | 3 big 2 small | 13 – 15 | INR 3500 | INR 7800 |
| Shared Sedan | shared taxi |  1 bag pack | — | INR 500 | INR 1200 |
You can avail of the services of car hire from Delhi to Agra with various transportation websites, such as Carzonrent.com, getmecab.com, Tajwithguide.com, Savari.com. Some of these car rental services providers also offer the tour guide services in their packages.
Self Drive Car Delhi
In case you want to get rid of the service of chauffeur driven cars and want to experience Delhi Agra driving you can easily avail the services of self-drive cars such as Zoomcar.com, mychoize.com, Mulescars.com, Kayak.co.in, etc. There are some of the most popular car rental companies in Delhi.
Ola and Uber Delhi to Agra
If you want to use a one-way taxi, you can use the services of Ola and Uber cars for your Journey Delhi to Agra or visa verse. There are several other one-way cabs like Savari and Hire my car, you can get them on fixed charge and can ask if they have any hidden charges and what are the inclusions and non-inclusions.
| | | | | | |
| --- | --- | --- | --- | --- | --- |
| Vehicle Type | Passenger Capacity | Baggage Capacity | Rate Per KM  | Fair One Way  | Fair Round Trip |
| Ola and Uber | 4 passengers and driver | 2 big 1 small | Flexible price | 2500-3000 nearly | 5500-6500 nearly |
Book tempo traveler Delhi to Agra 
In case you are traveling with your family or friends and the number of the group exceeds more than six, you can have the services of Tempo Traveler. This vehicle range from 7 to 15 seaters in capacity and you can easily adjust sitting comfortably and proper leg space and space for the baggage.
| | | | | | |
| --- | --- | --- | --- | --- | --- |
| Vehicle Type | Passengers  | Baggage Capacity | Rate Per KM  | Fair One Way  | Fair Round Trip |
| Tempo Traveler (9 seaters) | 9 passengers | 5 big 7 small | 16 – 18 | INR 9500 | INR 15000 |
| Tempo Traveler (12 seaters) | 12 passenger | 5 big 7 small | 20-22 | INR 12000 | INR 16000 |
| Tempo Traveler (15 seaters) | 15 passengers | 5 big 7 small | 20-22 | INR 13500 | INR 19000 |
Delhi to Agra Group Tour 
You can use the portal Redbus.in to book the Bus tickets Delhi to Agra. There are some other good options to book the tickets for the group tours to Agra by Bus such as Delhi Tourism, Hoho Holidays, Southern Travels, Panicker Travels, K.T.C India Private Limited.
Besides these, if you want to take the budget services you can get the government bus from Anand Vihar Depot or Sarai Kale Khan in Delhi.
| | | | | | |
| --- | --- | --- | --- | --- | --- |
| Vehicle Type | Passenger Capacity | Baggage Capacity | Rate Per KM | Fair One Way | Fair Round Trip |
| Government Buses |  Book Seats | 2 bag pack | Flexible price | INR 250 nearly | INR 540 nearly |
| Volvo | Book Seats | 2 bag pack | Flexible price | INR 700 nearly |  INR 1400 |
Budget Car Rental Delhi Agra
Budget Car Rental Services for bus booking online bus teckets,volvo and tempo traveller on rent hire in India. If you are looking for private tours or group tours from Delhi to Agra or Jaipur you can avail the best transport services equipped with the modern facilities from us. While planning for any tour package you can send us a mail for the services of car with driver and we instantly reply to you with our best quotation. Our transport will be ready at your doorstep 15 minutes before the desired time.
Car Rental Rajasthan
India is a country with diversities and full of colours where travel by car is a good choice. When you come on India vacation of course Rajasthan tours comes on priority. When you hire a car you hormonally get a car with driver. No matters you can rent a car and drive yourself it you have International Driving License are well acquainted with the road conditions.
Why you need a car with driver?
For these travellers who are first time vacationers to Rajasthan and are independent travellers, you should go for renting a car with driver. In self driven cars you have to go through the pains of driving through Indian road conditions and stopping places, parkings etc. In taxi rental with driver you are always free from such hardships. You simply have to take your seat in the car and ask the driver to start and whenever you want you can ask him to stop.
In India so many companies book the car rental service for Rajasthan. But before booking you should do a lot of research work like you check the reviews of the concerned car rental company on the Trip Advisor, Trust Pilot and other community follows. Same many offer you a bit cheaper rates but they are not able to provide you the services in the time of emergency such as car break dawn. The reputed companies are having good ground handling and cater to your need of hotels and tour guides at the sightseeing places.
Chauffeur's Tipping & Dining
In India most of the taxi drivers expect tip or bakshish. In normal conditions you can pay 300 to 400 INR per day which is reasonable. But it all depend on you how happy you are with him.
Normally the drivers are paid for their lodging by their owners when they accompany you. Sometimes they are given a place in the hotels you stay. Whenever they are driving with you they manage the food themselves at the road side dhavas or the restaurants.
Things to Keep in Mind for Car Rental
When you are planning a tour take it for few hours which can prolong depends on road conditions. Thus in itinerary planning you have to keep extra time. You should avoid travelling in the night. In Rajasthan tour there are lots of toll takes and interstate taxes if you come from Delhi, Punjab, Uttar Pradesh or any state, make sure these all taxes are included in the proposed quote.
You should read the contract carefully given by the car rental company before giving your nod. Sometimes the drivers act as the tour guides who are quiet helpful.
Some Famous Car Rental Companies of Rajasthan
Rajasthan Four Wheel Drive– This is a small company with quality cars and well behaved drivers. They have a large fleet.
S.A.M Tours & Travels– They provide car rental for Delhi Agra and Rajasthan tour with the impeccable services. The cars are reasonably priced and the owner Mr. Manjinder Singh has been in transport sector for long.
Rajasthan Tour by Car & Driver– The Company is owned by Mr. Ram Singh. He has a good fleet with excellent drivers.
Driver India Private Tours– They provide tours for Delhi Agra Jaipur and other parts of Rajasthan.
Read Related Blog: – Tips to Book Lowest Fare Taxi Service