A vacation to the beach with newborns or toddlers necessitates much preparation, and bringing a stroller to the beach is difficult. Having the appropriate infant equipment raises logistical issues. There are additional issues about keeping your child safe from the heat, wind, and sand.
Should I take a baby stroller to the beach? is a regular question I get from parents. Yes, but it will be difficult and time-consuming, preventing yourself and your family from spending time at the beach.
A stroller at the beach, in fact, may be a tremendous pain.
We'll go over the most crucial things to think about while taking a baby stroller to the beach in this post. As you read, consider the sort of beach you'll be visiting and ask yourself the following questions:
Is it a popular beach with a large number of visitors?

Is there any kind of boardwalk?

Are there any lifeguard towers where the stroller may be left?

What is the strength/width of the wheels on my stroller?

What is the distance between the parking lot and the beach?
Is It Ok To Bring A Baby Stroller To The Beach?
The Boardwalk Is Ideal For Baby Strollers
It's worth noting that certain beaches are ideal for strolling. You're in fortunate if your beach has a boardwalk. Beach boardwalks may be kilometres long, providing hours of strolling or jogging with your infant.
Using the boardwalk, on the other hand, will not let you onto the sand and will not allow you to sleep on the beach.
The boardwalk is a great spot to go if you want to get some fresh air and exercise. Strollers are permitted, and there are designated places on the boardwalk for strollers and joggers.
Despite the fact that most boardwalks are concrete, using a baby stroller (runner) with huge rubber tyres is significantly simpler.
Be Ready To Take The Stroller To Beach
Expect to walk on the sand if you're spending a lot of time at the beach. Pushing the stroller again after you quit the boardwalk will be difficult, if not impossible.
All beach has a unique sand kind. On certain beaches, the sand is thick and powdery, while on others, the sand is coarse and compacted. The former may be seen on most tourism beaches.
You'll need to have the stroller to get from your vehicle to the sand, but you'll also need to pick it up and take it to your beach site.
This shouldn't be a trouble if you're strong, but your stroller will most likely be stuffed with nappies, snacks, as well as other requirements for day.
During the summertime peak season, if you come earlier 10 a.m., you should really have your pick of parking sites. You may leave the stroller inside the vehicle if you find a nice parking location.
Wheel Size Is Important
Every mother will admit that wheel size actually matters to strollers. Prams 20 years ago were all the same, with little plastic wheels.
There are now bigger tyres which necessitate the use of a pump!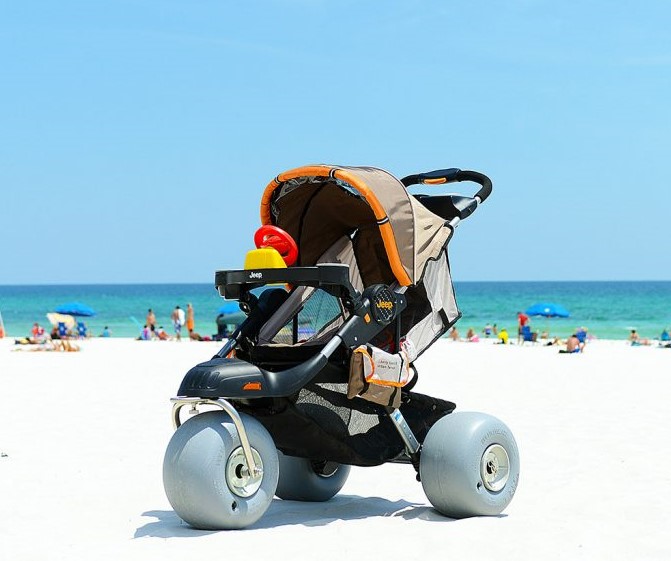 Narrow tyres, generally, do not perform well enough on sand. If you really want a stroller which can handle sand, choose beach stroller with broad wheels to give you greater surface area on an irregular beach.
Also, do not even expect to sprint or walk through the sand with your stroller. Running is generally ideal on wet sand near the ocean, but I don't feel it's solid enough in a stroller (give me an answer!). 
Although there aren't too many broad-wheel strollers, there are a few beach carts and beach waggons that could be used to take a baby. A beach cart does not provide shade for your baby, but that will assist you in getting your infant and stuff to a wonderful beach site.
Sand Will Likely Remain In The Stroller For Days
You've made it to the beach. Now you have to go through the beach while holding your newborn baby and hoisting the stroller up behind. Being a parent is tough!
Surprisingly, simply carrying a stroller to the beach will result in sand all over the place. Don't worry about not rolling the baby stroller through the beach. In fact, you went out of your way to make sure the wheels didn't get stuck in the sand.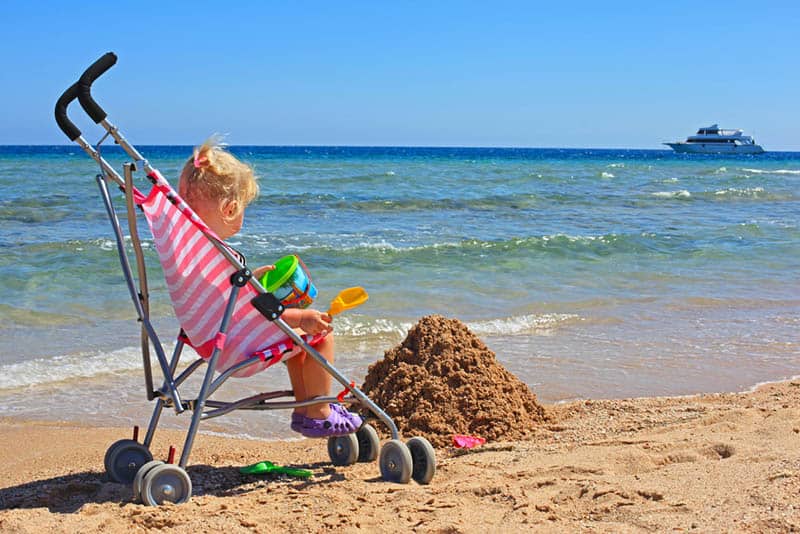 It really doesn't important, though. Sand has a way of going every where reappearing months later. Each time I wash my backpack, I find a tonne of sand, despite the fact that I've never brought my rucksack to the beach!
I wouldn't support taking your baby stroller near the sand if it's of good quality. Sand may clog bearings and create wheel difficulties.
Avoid Placing The Baby Strollers Unattended.
When you arrived there at beach with your stroller, your first thinking could be, Where ealse can I park my stroller when i wander here on beach?  Several times, I've had the same thoughts.
Make a mental checklist when leaving your stroller beachside:
Is the beach crowded?

Is it possible for me to keep a watch on the stroller?

Is there a location where I may cover it?

Maybe I have a bike lock that I can use to protect it?

Is there even a nearby lifeguard tower where I could keep it?
Once you're at a crowded beach, there will be a lot of people wandering by your unsecured stroller, which isn't ideal, specifically if it's a lovely stroller.
You could still park your stroller if you constantly check on it while you're relaxing or strolling on the beach. Find a space on the beach which is only 50-100 feet away from the stroller in this situation.
You'll be doing less walking and didn't have to think about losing your stroller.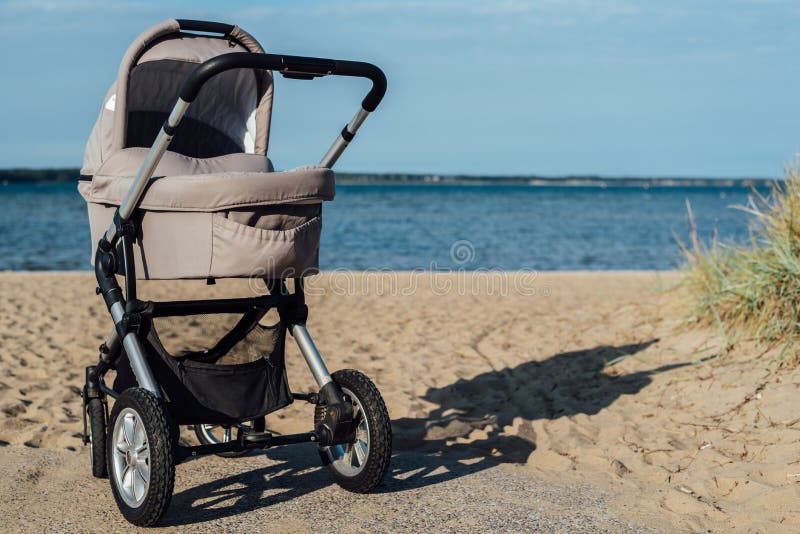 It's ideal if you've a spare bike lock on hand for this circumstance. You may park the stroller beside another pole or handlebar mount and keep it there until you return. Few individuals would break a bike lock in order to transport a stroller!
Last but not least, choose a lifeguard tower and park your stroller near to it.
On a beach, lifeguards are the authorities, and putting valuables there is safer than placing them out in the open. You can also inquire with the lifeguard about leaving the stroller on the beach.
Ensure that your stroller is equipped with a sunshade cover.
The benefit of strolling to the beach with a stroller is that so many strollers provide shade. Whether you're spending all day at the beach, your child will undoubtedly require some cover.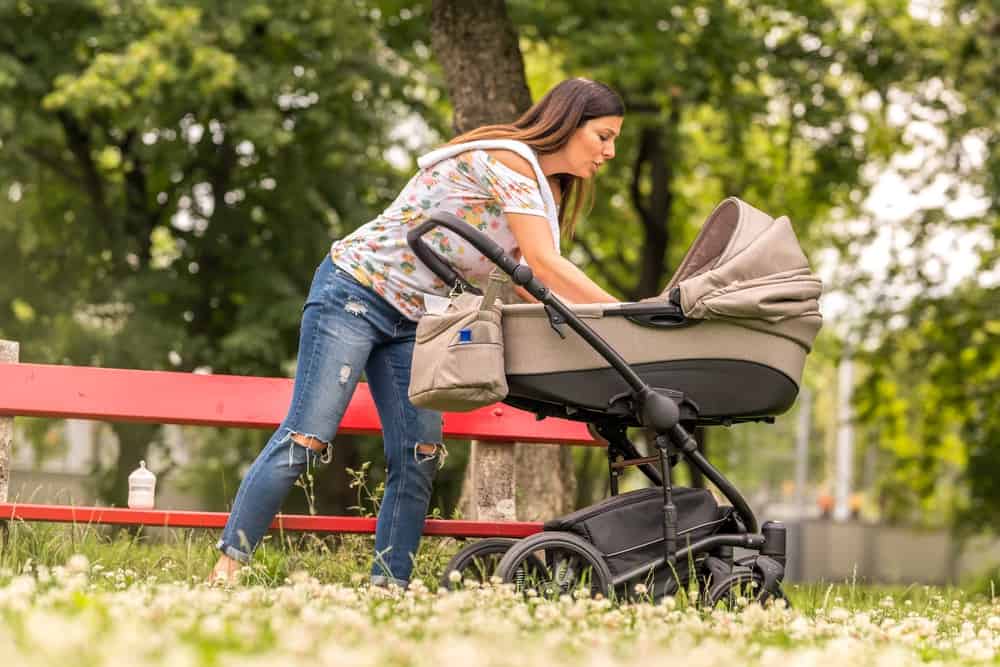 Since the only shade you've brought is in the stroller, you'll have to carry that onto the sand with you. Beach tents that show up are ideal for newborns and toddlers. A little baby beach tent is preferable to a stroller!
What Is the Parking Distance?
As I have stated, location you park is important. You must be able to get a parking place near to the beach if you come before 10 a.m.
You'll have to go fewer miles the more you go. Ideally, you will not require the use of a stroller.
Entering in the middle of the day during the summertime means finding a parking space and drive in loops till other people depart. If you've had a newborn or toddler, you'll want to make parking as simple as possible.
Can I use Stroller for Other Purposes?
If you bring a baby stroller, it'll be capable of carrying other goods such as a robe, crackers, sunblock, and sunglasses. Although if you do have to carry the stroller itself after you start the walk on sand, a stroller can help you carry less.
Conclusion
It's alright to bring a stroller to the beach, but be sure there are places to keep it and that it's worth lugging on the sand. Many beaches include lifeguard towers and bike parking where you may park your stroller while walking along the beach.
If you're going to a busy beach, you might want to leave the stroller at home.
If the beach you're going has a boardwalk, you may walk or run down it. Carrying a stroller onto the beach, on the other hand, certainly makes things more hard.
Click here for more.