Despite the fact that the cubic graphics of Minecraft seem primitive and unsightly to many at first, this game won the hearts of millions of fans around the world and even became something of a symbol of the generation of gamers of the 2010s. And today, in 2020, the number of purchases of the game is steadily growing (at the moment there are already more than 200 copies sold). This is because Minecraft does not force players to achieve certain goals, but gives them greater freedom of choice and space for creativity. Someone prefers the survival mode, in which the main thing is to survive as long as possible, someone appreciates the creative mode more, which makes it possible to create objects of architecture, but each player can build his own unique world and do what he wants in it. Of course, Minecraft has spawned many followers in the gaming industry. In this list, we will give you a list of games that inherited the main mechanics from Minecraft (crafting, construction, in some also survival) and added new interesting elements to their games.
Terraria
Terraria has been a major competitor to Minecraft for years. This pixel game has an advanced crafting system (you can create more than 3500 types of items), the construction of houses and shelters, a variety of enemies (and bosses), as well as many types of NPCs (wizard, nurse, merchants, etc.) that can be settled right in your home (if there are rooms for them). This game will be most appreciated by those Minecraft fans who prefer the survival mode since in Terraria the emphasis is no longer on creativity but on the exploration of dungeons and battles with different, often difficult mobs.
Realmcraft
Realmcraft is a popular free alternative to Minecraft that has been played by over 50 million people. Inside the game, you will find three main modes: Survival, Creative, and Worlds. The first two modes are already familiar to Minecraft fans. In survival mode, you have to build a house to hide from evil mobs at night, get food, and create useful items. Creative mode gives you immortality and an endless supply of all the blocks in the game so that you can fulfill all your fantasies. Well, the Worlds mode is a beta multiplayer in which you can build with your friends.
Stellar Overload (Planets3)
Stellar Overload is a voxel sandbox in which you can find many planets, consisting of many blocks. The game practically does not limit the player's creativity: here you can build almost anything, including buildings of the most incredible shapes and sizes. You can create different types of weapons, vehicles, and other equipment. Also in the world of Stellar Overload, you will find both friendly NPCs and enemies to fight with, and you can explore hundreds of dungeons in search of rare items.
Portal Knights
Portal Knights is a sandbox RPG that is recommended to play with friends in co-op mode. According to the plot, the world of Portal Knights was once united and prosperous, but due to a mysterious catastrophe, it was divided into many flying islands connected by portals. Now your four characters must travel through these worlds, fight enemies, create and customize new weapons. To unlock each portal, you must defeat the guard-boss. There is also construction here, but it is here purely for entertainment, and not for protection from mobs.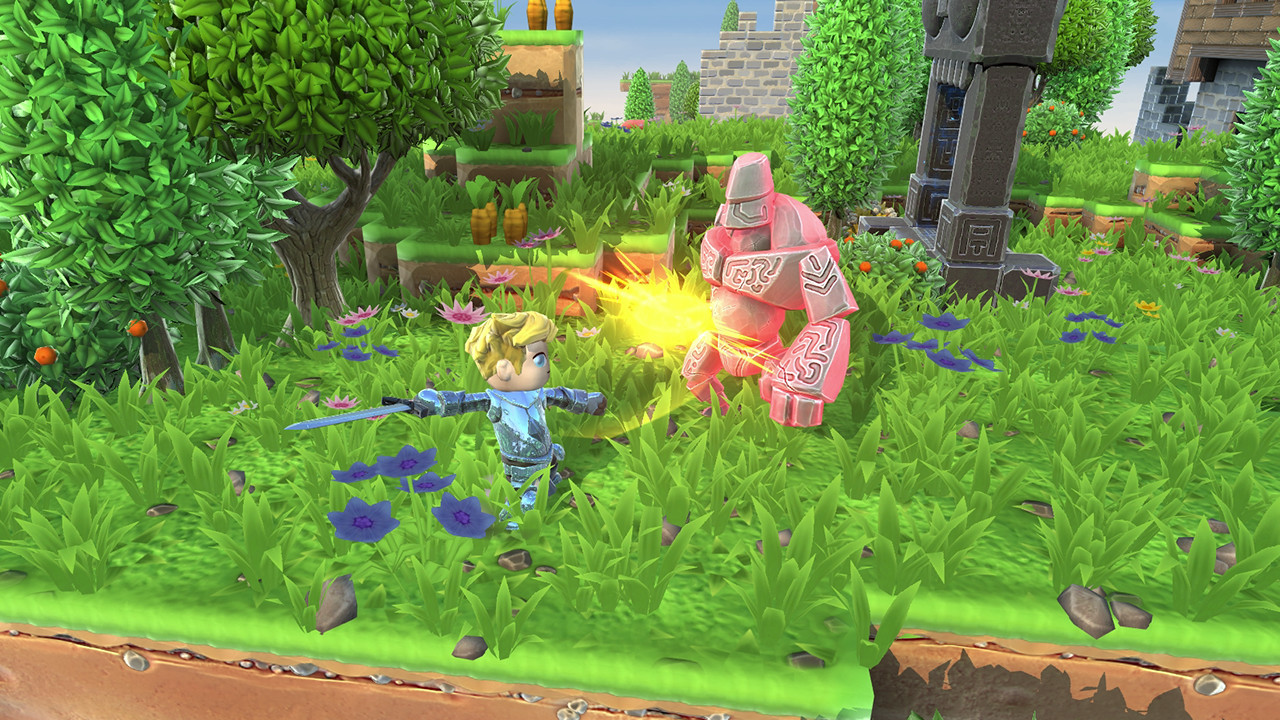 BuildaNauts
BuildNauts is a construction simulator in which, despite the cute cartoon graphics, the construction process is surprisingly realistic: for example, before building a house, you first need to clear the area, level the landscape, prepare the foundation, etc. In addition, money is required for materials and wages of workers, so to create the projects you will need to fulfill orders of the residents of the town. You will think over your projects in a convenient 3D editor, and then watch how little people carry out your project in real-time.
Boundless
Boundless is a free-to-play MMO sandbox that contains many types of activities. You can travel to many unique planets, discovering new planets. Here you choose your own path: you can endlessly travel to different worlds, stopping only to spend the night by the fire, or you can found your own settlement and develop it into a prosperous empire, having received the status of a governor. On every planet, you will have opportunities to grow plants and hunt the most amazing animals. You can also create interesting new items and technical innovations, and then sell them to other players.